Oktoberfest in Munich is a fresh-aired, blurry-visioned German brew brouhaha to which every person on earth should go.
Going to Oktoberfest was not at the top of my list.  I had been to Munich before, and I am on a mission to visit places I have not yet been to (because there are many), plus I don't drink much.  But when my friend Rachel said she was going no matter what and had procured an elusive hotel room with her Marriott points, my travel trigger was pulled.
There followed a few days in which our plucky group of American girlfriends scrambled to find transportation. The flights weren't flying on the days we had booked the non-changeable hotel reservation and the trains cost, surprisingly, hundreds of Euros.  I suggested renting a car, but no one, including me, wanted to cross the Alps in the middle of the night like the Von Trapp family in a little Fiat.
One of the girls, Kathy, found out about a little company called – and you cannot make this stuff up – Bus2Alps.  It would cost 145 euros round trip from the center of Rome to the center of Munich on the dates we wanted.  The catch was the 12-hour, overnight journey sitting upright in a bus.  In my head, cut to: the days I sipped champagne and reclined in business class.
Let's do it!  The bus was beyond uncomfortable and cramped, and all five of us ached and groaned through Rome, Tuscany, Bologna, the Alps, Austria, and finally Germany, with our knees up to our chins.  Every single person was American and most were born in the '90s.  But it was (relatively) cheap, on time, and if you're too posh to take transportation like this, you will miss out on some really fun stuff in life.
We burst out of the bus like bats out of hell, and without napping or showering, headed straight to The Fest.
I suppose those days are regular workdays for many Munich residents?  I don't know, I didn't see anything in Munich except Oktoberfest, and people dressed up for Oktoberfest, on their way to Oktoberfest.  The women were in dirndls with their (without exception, enormous!) cleavage on full display, and the men were in lederhosen, with knobby knees as exposed as the cleavage.  Folks (we get that word from the German word "Volks" – #trivianerd) had been drinking for hours already and I kept thinking, a la Sixth Sense, "I see drunk people."
We had been warned that we'd have to wait in line for hours to get into a beer tent, but we marched past the carnival rides and food stands with yummy cinnamon smells and went straight to the Hofbrauhaus.  I strongly recommend the Hofbrauhaus.  Somehow we found a table immediately and ordered beers and brautwurst and kraut.  Careful about this – we were warned so much about hours-long waits, so it must be true.  We were probably just lucky.  We also went to other beer tents, which were fine, but not as fun as the Hofbrauhaus.
To begin with, everything was expensive but the beer comes in a stein the volume of which is equivalent to four regular beer bottles, so it's a bargain at 10 euros.  The food was a bit less reasonable (though completely delicious) and the price of Coke (6.50 euros) and water (4 euros) is obviously something they hope you're too drunk to notice.
We made a bunch of friends who were sitting around us at the table, and some of them are pictured here: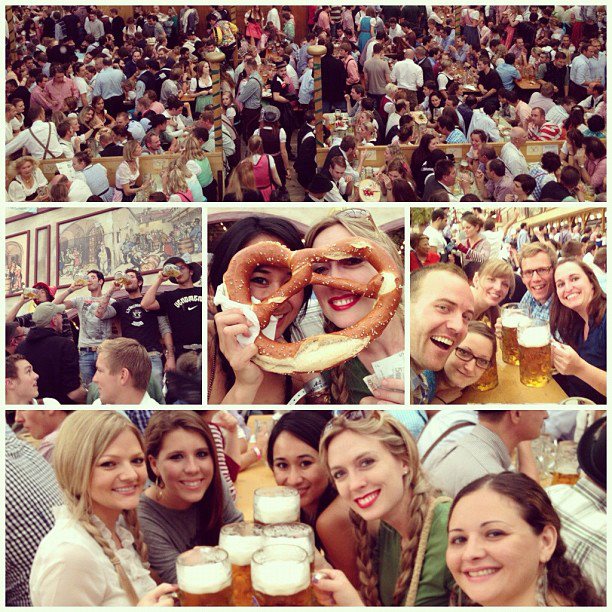 We even made friends on Facebook with some of them, so you know, it's a real bond.
Everyone sang.  The same songs, over and over.  It reminded me of summer camp, but with drunk people asking each other through telepathy and, later, actual words, for a sloppy kiss.  Lots of activity occurs on tables.  There were throngs of people standing on tables, dancing on tables, chugging beers on tables.  We saw one guy, and later, one of us, fall asleep on a table.
We ate and drank so much we looked pregnant.  But besides consuming things, there tons of things to do at Oktoberfest.  A couple of us gals did a carnival ride for 8 euros and Rachel won a stuffed animal at a shooting game.  We made some more friends, some of us kissed handsome strangers, some of us did not.  Everyone watched out for each other and I think we might be friends for life.
The next day, three of us returned to to the Fest, but Marion and I wanted to see some sights, which in southern Germany means: castles.  SOMEHOW after the sleepless bus ride two nights earlier, then a day and night of beer and pretzels, we managed to get up at 6:00 to board another bus for a tour of Bavarian castles and Oberammergau.  Oberammergau is a tiny mountain village famous for houses painted with fairy tale scenes and the Passion Play.  This tour, which can be booked through any hotel, was totally worth it – we both thought so.  It was about 70 euros including the admission ticket to the castle, but we would have spent at least that at another day in the tents.
Neuschwanstein Castle.  Built (mostly) by King Ludwig II who was likely crazy and certainly gay and died under mysterious circumstances, which automatically makes me a huge fan and I want to read more about him.  This castle IS A MUST SEE IN EUROPE.
The drive through Bavaria on the bus was almost as cool as the castles themselves, with actual black and white cows with actual cowbells peppering hillsides that were various shades of Crayola green.  It's all so Heidi and Sound of Music and Band of Brothers.
The next day, all of us left Germany on the original bus, still as uncomfortable as ever, but it was on time and pretty fun.  From my window seat, I saw not only Austria , but also parts of Italy that I probably would never see otherwise.  I'm specifically referring to the Alto Adige region.  When you think of Italy, you think of Rome, vineyards, and maybe beaches.  Not this Alpine wonderland that smells like snow and milk and cheese.  I wholeheartedly recommend a drive through this region of Italy.
Back to Rome at 2:00 a.m!!  Eh…what a welcome back: someone had unscrewed and stolen the windshield off of my scooter.  I mean… you really could not script a better foil for the smooth, glitch-free weekend in Germany than coming home to find that someone had taken the time to remove my windshield in order to earn about five euros on the black market.   But I love Rome, there's nowhere else in Europe I'd want to live, and, at the moment anyway, nowhere else in the world.  I had an exciting weekend fling with Germany, but Baby, I only want to come home to you.
Oktoberfest, in sum:
Should you go: Without hesitation.
Best for: Groups of friends sans significant others, and, even more specifically, all male friends or all female friends.
How to get there:  Fly from the States, on nearly any airline, to Munich.  From other parts of Europe:  Ryan Air flies there for cheap, but careful – the flights don't go every day.  Trains also go there but can be lots more expensive than flying and take forever, and you may have to share your cabin with strangers.  From Rome and other cities, overnight buses are cheap options but very uncomfortable.  If you're not too far and/or possess the requisite energy and fortitude, rent a car.  If you split it amongst friends it's probably the cheapest way, and provides you with the most flexibility and freedom.  Make sure you check your hotel's parking options; that could be pricy.
Where to stay:  Wherever you can.  My understanding is that finding a hotel during Oktoberfest is very difficult and even more expensive.  We stayed at the Munich Marriott, which was downright luxurious and only possible thanks to Rachel's points, accumulated in her earlier life in corporate America before she went crazy (or, maybe, went sane) and moved to Rome like I did.  Honestly, Rachel was the heroine of the weekend.  For a cheaper option for you young'uns, some of our busmates stayed in the Jaeger Hostel – we saw the lobby and it looked really nice, and we were totally jealous of the breakfast buffet for 4.50 euros.  Did not see the rooms, but the location was great and … did I mention the buffet breakfast.
Tips: Bring lots of cash; get to the beer tents early; dress up in dirndl/lederhosen/at least braid your hair; take the subway around Munich, it goes everywhere and it's clean; book a Royal Castles tour through your hotel; and take me or someone like me with you who is likely to remain sober so that someone can call Interpol if you disappear.
*Thanks to Marion de la Pena for the photos.