We had a two week window to plan a vacation. My travel partner had two weeks between leaving his old job and starting his new one, and it miraculously overlapped with the week before the spring semester of my MBA program started. Neither of us is the type to pass up the chance to take a trip.
We had the "when" down, but not the "where." We didn't care. We just wanted it to be warm, and affordable.
Italians, far more than Americans, still use travel agents or "tour operators." They use the latter term, in English, to describe a particular type of travel agent that organizes everything from the flight to the food in one big package. These packages are quite affordable – that's the bright side – but I was about to find out why.
After scouring the Italian tour operator websites on top of the semiweekly email offers I get (sorry, Italian tour operators, I can't go to Cuba any time soon), we seriously considered Sharm-el-Sheikh, Egypt, on the Red Sea (we're both licensed SCUBA divers), the Seychelles, Madagascar, Kenya, Cape Verde, and Mauritius. To me, these were all wildly exotic destinations. But to Italians, apparently they're all the equivalent of going to Jamaica. It makes sense – they're all relatively close. All of the packages were loads, thousands, less than they would be if one were traveling from the States, and the best deal of them all was…
Kenya.
What a bargain – roundtrip flight from Rome to Mombasa, transfers to Watamu (close to the town of Malindi), 7 nights at an Italian-run resort in Watamu, and three square meals a day. All for the price of what I used to earn in 2 days in Dallas and now earn in a month (this isn't a joke). (Really it's not a joke.) (This is literally accurate.)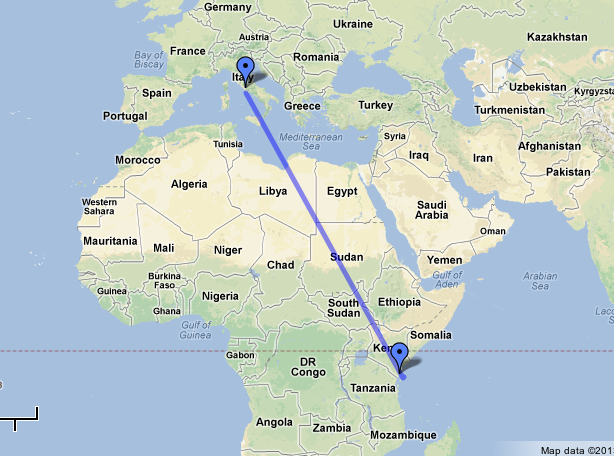 So I was booked for KENYA! For the next several weeks I floated on air, dreaming of exotic animals and starlit skies, distant drumbeats and the deep, blue Indian Ocean. And I had this in my head:
I also had this in my head:
Understand that I have wanted to visit Africa for as long as I can remember. It seemed so impossible, like something only really rich people or missionaries could do. Could one just…vacation there? Without some serious organization, planning, money, and vaccinations? I simply didn't know there were things like seaside resorts with all-inclusive packages. Boy, if there's one thing Italians are good at, it's finding all-inclusive seaside resorts.
We took off on an Air Italy plane chartered by the tour operator. It was full of people going to the same resort, or one of its sister resorts. Everyone would also be returning together. I immediately felt like it was a bit like a school trip. Better not make any enemies on the plane, because you'll be seeing all the same people for breakfast, lunch, and dinner for the next week.
We arrived in Mombasa, totally out of it after about 10 hours. It was dawn. I was thrilled. The air and the smells were different than anything I had felt and smelled before. I used to think this every time I landed in Italy. Like, inhale… "there's that Rome smell." Now, I'm used to it. When we landed in Mombasa and exited the airport, it looked like it could be the Caribbean or even Florida, but the smell of the place was all new to my nose. It smelled of tar and old fires and dust, and flowers.
Then came the 2.5-hour bus ride to the Ora Resort Jacaranda Beach. I was so juiced up about riding through the African countryside, through towns and villages. But after the man with the microphone was done with his safari and day-trip sales pitch, everyone on the bus passed out. This was the first of several times I totally missed seeing the African countryside due to completely passing out from exhaustion. Keep reading to find out what/whom I blame for this problem.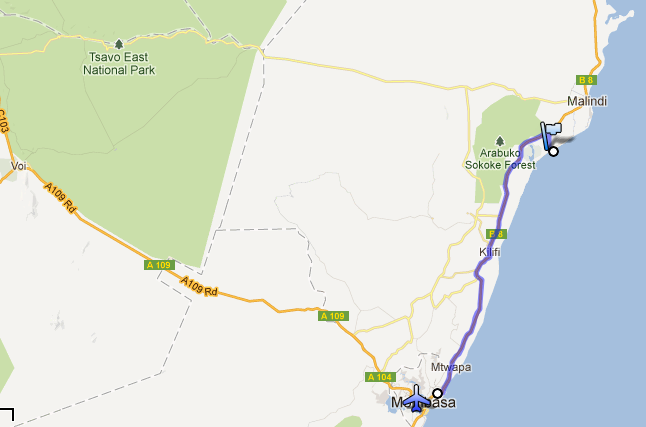 I regained consciousness as we were pulling into Jacaranda. I saw a team of Jacaranda staff, consisting exclusively of Italian managers and upper-level staff and local African lower-level workers, standing at the entrance and singing a song and clapping, welcoming us. It was nice. So was the mango juice we were handed as we rolled out of the bus.
No one could go to his or her room until the Italian – what was she? – emcee? – had given us some directions. Again, like summer camp. We were all told to find our rooms and then return at noon to the lobby for instructions on the resort – what's included, what's not, excursions, the beach towel policy, etc. I kept thinking that usually when I check into a hotel I am thereafter on my own. Also because everyone checks in (and checks out) at different times. The experience of a bunch of adults who are strangers to each other arriving, eating, and leaving together was new to me, but I was up for it. I decided it was going to be like a cruise on land.
At the information session we learned that our three meals would be served buffet-style in two-hour windows. We also learned that getting to Malindi, the nearest city, would be thirty-five euros each way.
Wha-wha-whaaaa??? In a part of Africa where the hotel workers were making about 40 euros a month??? It's unfathomable. And it's not enough to explain it to simply state, "Well, it's for tourists." I've only just started my economics class, but I'm pretty sure that if there were a little competition, someone could offer a cab ride for 30 euros one-way, then someone else could offer 25… my point is, is the cab driver the richest man in Malindi? It's really unexplainable.
A 70 euro cab ride, roundtrip, was not going to happen for us. That's more than we were paying for a night in the hotel!!
But surely the excursions we wanted to take included transportation? We had researched online day safaris and wanted to take a couple of them. Also, we wanted to SCUBA dive.
Then we found out that the day safaris cost 160 euros per person. Equal to more than two nights in a hotel. Honestly, I didn't care what the day safari cost, I would have been willing to pay it, but it meant we'd be doing one safari day, not two.
So we ended up feeling rather isolated, and not in a good, romantic way. More like an inconvenienced way. Besides the safaris, I thought we'd be able to go into Malindi every afternoon or evening for a beer or an ice cream, or a cheap dinner. I wanted to get out there and see Africa, dangit! All of it, countryside, national parks, and cities. But I couldn't do any of it without transportation.
The isolation would have been okay if the beach and ocean where we were staying had been heavenly. It was pleasant enough. The sand was white and powdery, and the water was blue. Every day, from morning until about 5:00 PM, the beach experienced the phenomenon of extreme low tide. Until late afternoon one could walk in ankle-deep water the distance of several football fields. In the evenings, the ocean came back with a vengeance.
I enjoyed walking out in the low tide, but once you leave the patrolled border of the resort, the "Beach Boys" surround you. I had read about them and thought, from the name, that they would be children, but they were grown men. They want to sell you safaris and other experiences. We had been told to politely say no. We thought this would be easy since we say it to gypsies in Rome every day. But the Beach Boys would not take no for an answer. Once you've made it clear that you're not buying anything, they start begging. It was so sad. We didn't know what to do. We were out there on the sand bar, and had nothing to give. But even if we had had something to give, giving something to one of them would have meant a swarm of others. We wanted to give everybody something, but it was impossible. For this reason, most of the beachgoers stayed within the boundaries of the resort. What a shame.
Stuck within the boundaries of the resort, we felt we could be anywhere. Were we in Africa? Italy? Aruba? FLORIDA? I wasn't sure, but I was pretty sure I didn't need to go all the way to Kenya to sit around a pool listening to "Call Me Maybe."
On the bright side, the structure itself was lovely, with glistening pools, breezy pavilions, and a fun game room where I became very good at foosball in a matter of days. The bedrooms all had verandas from which to gaze at the impossibly starry skies. The skies looked like white splatter paint on midnight blue construction paper. All the outdoor walkways were covered in a canopy of bougainvillea, and there were whimsical (borderline kitsch) life-size statues of the animals who actually lived in the wild a few hours away. It would have been a nice place to stay for a few days, but not a week.
After dinner every night, there were always evening activities (What is this, I thought, the resort in "Dirty Dancing?" Not that there was any dirty dancing going on, but remember the talent show??). I enjoyed them, guiltily. I was fascinated to see the Masai warrior shows and the Malindi acrobats perform, but was a little embarrassed that Africa was coming to me, on a concrete stage surrounded by folding chairs, instead of my going to it, out there, somewhere, outside of this resort.
The reason I call this post "Little Italy…" is because the African waitstaff and I were the only non-Italians there. I knew it was Italian-run, but did not know it…only advertises to Italians? Does it only ACCEPT Italians? I've never been to any hotel or resort, no matter who ran it, that housed only one nationality at any given time. I asked a manager if there were ever any non-Italians and he said, "Well there's you, and a few weeks ago a Russian woman came with her Italian husband." Everything was written in Italian, the food was Italian (think: pasta and pizza in the middle of Kenya), and all the locals around for miles spoke Italian to us. The music played over the loudspeakers was mostly Italian. There are tons of Italian resorts like this all over the world that I think we Americans don't ever hear about. They're called "Vilaggi" and they are, in fact, like villages. There were employees called "Animators" whose job it was to…entertain us all day with jokes and games? Like court jesters. My Italian companion accepted this as part of a vacation experience. He said he had once considered becoming an "animator" in a "villagio" but opted instead for, I dunno, college? Again I thought about  "Dirty Dancing" and about how the American version of a "villagio" must have gone out of style along with vacationing in the Catskills.
And then the most Italian thing of all Italian things: the YMCA.
Why do Italians love the YMCA so much? Why is it played at every wedding, birthday party, club, beach, and resort in Italy and abroad if Italians are in charge? When I tell them it's about anonymous lewd encounters in an all-male hostel, they faint. Then they get up and dance.
One night at the Jacaranda it was dance night. There were going to be contests in ten different genres of dances. GENRES, mind you. The waltz, line dancing, hip-hop, some others, and the YMCA. You see? It is considered a GENRE here. And, one that someone can be better or worse at than others. There can be a winner, and a loser, to a YMCA dance-off.
I did not participate. I like corny things, but I have my limits. I sat there and sipped tea and thought to myself, "I had to come all the way to Africa to watch a bunch of middle-aged Italian millionaires dance the YMCA."
Sidebar: one thing I love about Italians is how middle-aged and older folks have no problem busting a move on any dance floor. They totally go for it, especially the men. They have a ton of fun and age and coolness are irrelevant. One night, the resort organized a field trip to a discotheque in Malindi. We didn't go because we were diving early in the morning. But our friends from Milan went – in their 60s – and the next day said they had a ball. Trying to picture my former law partners doing something like that strains even my vivid imagination.
During the week, we left campus three times: a day safari, SCUBA diving, and a night out in Malindi. These three excursions together probably cost about half what the entire rest of the trip cost, but we just had to get out of there and see something. And remember I said I slept through every ride through the African countryside? That's because to get anywhere from the resort one had to leave at around 3:00 AM! It was that remote. Drink all the coffee you want at that hour, it is impossible not to fall unconscious as soon as that bus starts rocking down the dirt roads. I will write about these day trips in subsequent posts. I'm exhausted from just writing this one….
My takeaway from the trip is that it's better to just book your own trips piecemeal. Find a flight, then accommodations, then transportation. Oh, who am I kidding? Until I make a big salary again, I'll follow the deals, not my heart.
***UPDATE*** I've just re-watched the video for YMCA. When it comes on in Italy, everybody leaps to their feet, spelling out the Y, M, C, and A with their arms like semaphore. But, this move is NOT IN THE VIDEO. This begs all sorts of questions.