A Trullo is a cone-shaped dwelling that, as far as I know, exists only in a certain area of central Puglia, in the rural areas between Bari and Brindisi, in the deep, dark heel-of-the-boot of Italy.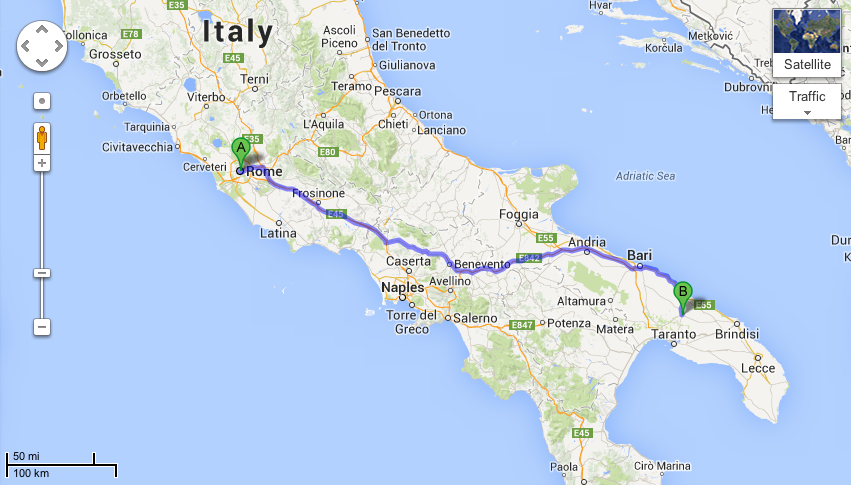 I had been to Puglia once before, only a few months ago, for work. It was Bari, the biggest city in Puglia, and I concluded that it was perfect for a few hours' stop on a cruise ship, but otherwise not that spectacular. But ladies and gentlemen…GO TO PUGLIA AND STAY IN A TRULLO.
My friend Cara, with whom I visited Naples a few months ago, and I boarded a very early morning flight on Ryan Air to Bari, where we picked up an extremely expensive rental car and drove out into the Southern Italian countryside towards Locorotondo and Martina Franca, both known as "white cities" because they look as if they are made from chalk. I must thank Cara for doing all the driving. She's English; I'm American. She can drive a stick; I never learned. Thanks, Cara, you're a trooper!
We pulled into the complex of Trulli, one of which were were staying in for the next three nights. The complex of Trulli is owned by a business acquaintance of mine in Rome, a doctor, and it has several Trulli for rent to vacationers as well as three luxurious units in the main farmhouse. Each one has its own garden and outdoor eating, with incredibly charming plants like lavender bushes and fig trees in every direction. The pool is sparkling, the hot tub is bubbling, and the views are unique: in one direction, the town of Martina Franca snoozes on the horizon, in the other, Locorotondo does the same. And in all other directions, fields and farms and other trulli.
I am now convinced that sleeping in a trullo should be up there on one's Italian vacation to-do list with things like riding on the back of an Italian guy's motorcycle seeing the Sistine Chapel. They are hundreds of years old but have been renovated (at least, these have), with modern kitchens and baths. They're like Smurf houses! That's it, Smurf houses. But for grown-ups…and Cara and me.
We ate the most magnificent food for almost no money – gigantic cheese plates, plates of mixed grilled meats, and breakfasts of chewy bread and homemade ricotta cheese and jam. We bought fruit on the street and ate apricots and cherries like they were candy. And they tasted like candy. This isn't grocery store fruit, y'all, this is fruit as the Lord intended.
We visited beaches. Beaches that make the beaches near Rome look like dumps (which already make most of the beaches I've been to in the States look like dumps). At one beach establishment, we asked what a lounge chair and umbrella would cost us, and he said three euros a person. An hour?, we asked. No, for the whole day. Toto, we were not in Rome anymore. There are tons of beaches within a 30-minute drive of the Trulli, each one better than the last.
I am quite bashful about posting pictures like this, but I'm turning 34 years old a month from yesterday. If I don't post them now, I never will. It's not like it's ever going to get better than this.
In the evenings we poked around Martina Franca and Locorotondo eating and drinking and then CRASHED at night back in the Trullo. One night we drove to Monopoli to have the craziest delicious dinner right on the seaside, with mixed seafood appetizers and spaghetti with clams, and chilled white wine. Then we drove around with our friend to see a few special spots by night. An ancient monastery on the water, some little bays, and an inevitable outdoor dance club on the sand. When it was time to go back to Rome on Sunday, I was so bummed. I think I'd like a week there at least.
Readers, Puglia might be the new Tuscany. You can fly to Bari or Brindisi and then rent a car to drive about an hour into the countryside, or just rent a car in Rome and get there in about 4.5 hours. If you're interested in staying at this particular complex of Trulli, send me a message and I'll put you in touch with the owner. I'm serious, you'll be happy you did, and have major bragging rights. "Oh, you went to Rome and Florence? How original of you. We went to Puglia and stayed in a Trullo." If they don't know what that is, just forward them this blog.