And I begin my blog about living and practicing (U.S.) law in Rome, Italy by discussing my weekend trip to Turin.
My Roman friend Alessandro had told me that Turin is the Detroit of Italy. So I had rather low expectations. I was going to Turin to visit Francesco, who lives there, and I was counting on him to show me around. So I had done exactly zero-point-zero research into things to see or do.  All I knew was that the famous Shroud is not currently on display.  I also vaguely remembered the Winter Olympics having taken place there a few years ago.
The flight was cheap and fast – thanks Blue Panorama Airlines! I had never heard of you before now but you delivered, not quite on time but for under 100 euros.  If you are already in Italy and want to go to Turin, I strongly suggest you check out their fares and compare them to the train fairs.  This weekend, at least, it was cheaper to fly. Francesco was not there yet to meet me, so I had a somewhat pricey cappuccino at the airport bar (with a very nice barista who wanted to make conversation), and then went to brush my teeth.  I've never been able to resist brushing my teeth in the airport bathroom.  Most times when you're out and about and you're dehydrated and have coffee-mouth, you must resort to gum. But in the airport you've got your toiletries right there with you!  It always feels like a miracle.
When you're used to Roman accents, Torinese accents sound crazy.  They sound like foreign people trying to speak Italian, and I should know.  It's as if they are all speaking in some unnatural iambic pentameter. For the record, they probably think Romans are mostly just grunting.  But, hey, whatever you're used to.
The two-door Mercedes pulled up, and I was out of the airport and in Turin!  A new place for me!  It was a hazy late afternoon, but… are those… could those be… the Alps?  Yes!  Joy!  My experience with the Alps had so far consisted of sleeping in the passenger seat of a Fiat Uno eleven years ago on the way from Siena to Munich, totally missing them.
There was one mountain that seemed, not taller, but puffier than the other ones.  Francesco said that I should recognize it.  I had no idea.  I was about to guess, "Um, it looks like Half Dome in Yosemite?" but he saved me.  It turns out, that's the mountain on which the Paramount Pictures logo is drawn.  This former film major thought that was pretty cool.
We first stopped at a grocery store.  It met my American standards with regard to parking, size, selection, and ability to turn around in the aisles.  It was far more manageable than any of the Roman grocery stores I frequent, which always feel like ant farms, plus it had these: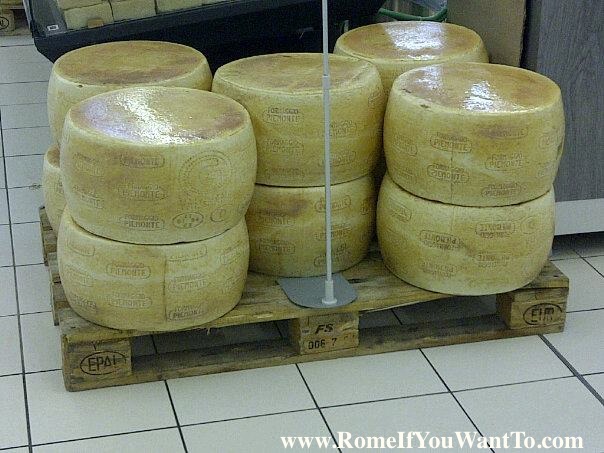 Turin exceeded my expectations, which, because of Alessandro, were admittedly low.  Actually, I thought the downtown area of Turin was just beautiful, nothing like any of the other Italian cities I've visited, and more like Austria or something.  See what I mean?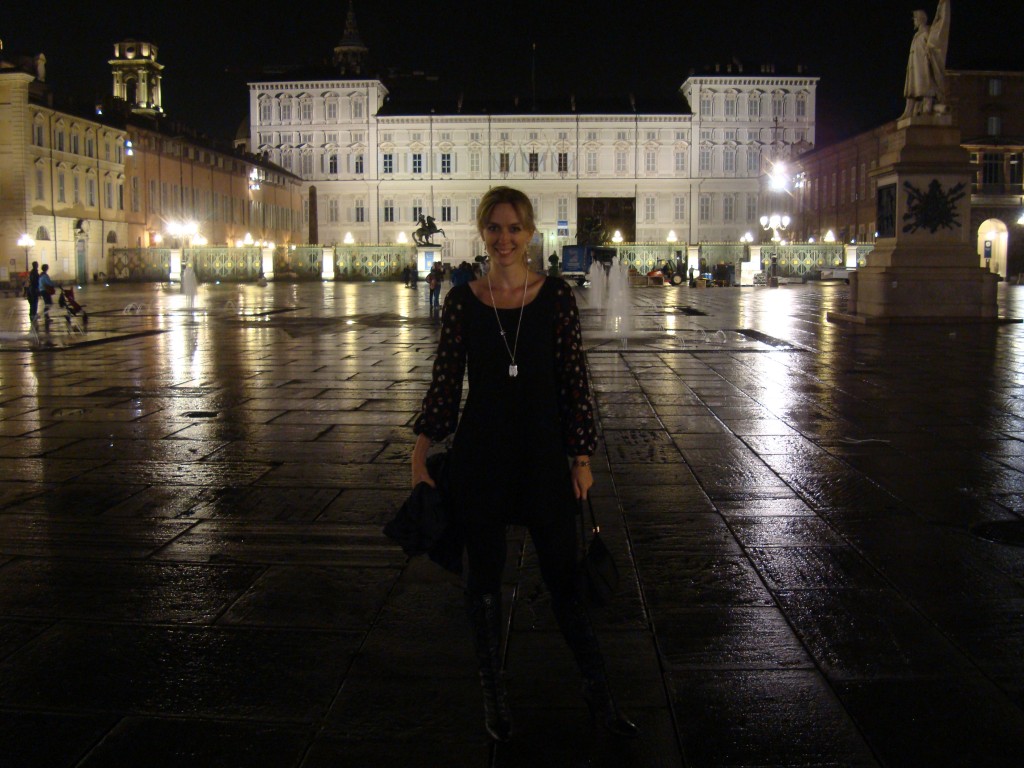 Overall, weekend was nice, and the air was fresh and mountainy.  It was rainy, which was fine. I didn't need the sun to have some memorable meals:
1) L'Acino – which doesn't seem to have a website but here is the Travelocity page.  The walk up to it is darling enough, with an unusual church and a small square right by the door.  The wine selection is good, and the waiter and Francesco went back and forth about which was fruitier or less fruity or I don't know, I was reading the menu.  All I know is the wine was good.  But the food… mamma mia… I got little pastas (home made dough) stuffed with meat (tasted like meatball meat, not sausage or prosciutto), and covered in browned butter and sage.  I felt the butter on my lips for the rest of the night.  The waiter wickedly left an entire jar of grated grana padano (This is grana padano – it's softer and milder than parmesan.  Real parmesan is quite tangy, not like what we get in cylinders in the States).  The next time I go I am going to try the stuffed zucchini flowers.  Well done, L'Acino people!
2) Kirin Japanese Restaurant – which also does not seem to have a website.  It wasn't the greatest Japanese food of my life, but it was very good for Italy and with Francesco's Groupon it was a real bargain!  Something like 20 euros per couple (he did not let me see the bill, but I asked Google) including a beer per person.  Every time I thought they were done bringing us dishes – after the sushi, then after the fried rice, then after the seared tuna – I was wrong.  Anyway if I lived in Turin, I'd be hitting up Kirin a lot.  It's a nice break from Italian food without resorting to McDonalds.
I also had two experiences worth mentioning:
1) Grom Ice Cream – there seem to be one of these distinctly Torinese gelaterie on every corner in Turin.  You'll notice that it's really "green" and into "Slow Food" and sustainable stuff but while most of these places yank up the prices in exchange for biodegradable spoons, this place is cheap!  2.50 euros for a cone with two huge scoops I could barely finish.  Not a huge flavor selection, but more than enough, and really delicious and reliable and authentic. If you go there, you'll see why I put Grom under "experiences" and not "food."
2. The Basilica di Superga – Wow!  You need a car to get here, and a GPS, but once you're there, you see the whole view of Turin, the Po river, and the glorious Alps.  Ricolaaaa!!!!  The view is really why you're here, but the interior (and exterior) of the Basilica are also really something.  Not like anything we've got back in Tennessee, y'all. We paid three euros each to walk to the top of the dome, which was obviously worth it.  Honestly, the air was so fresh, I wanted to eat it.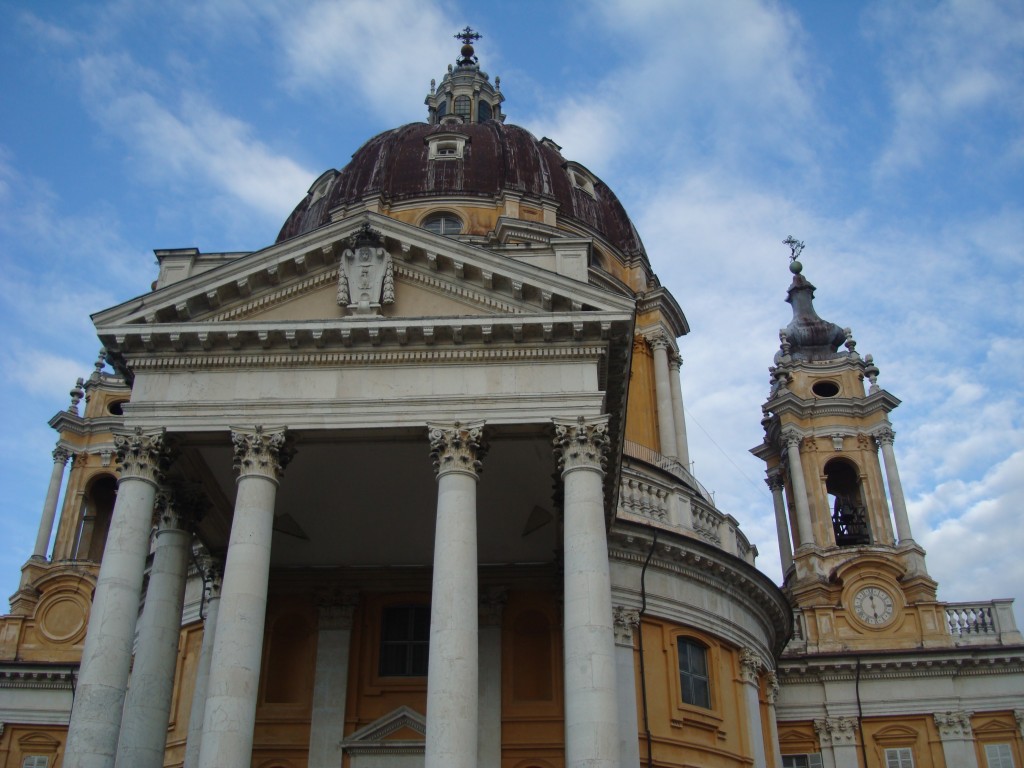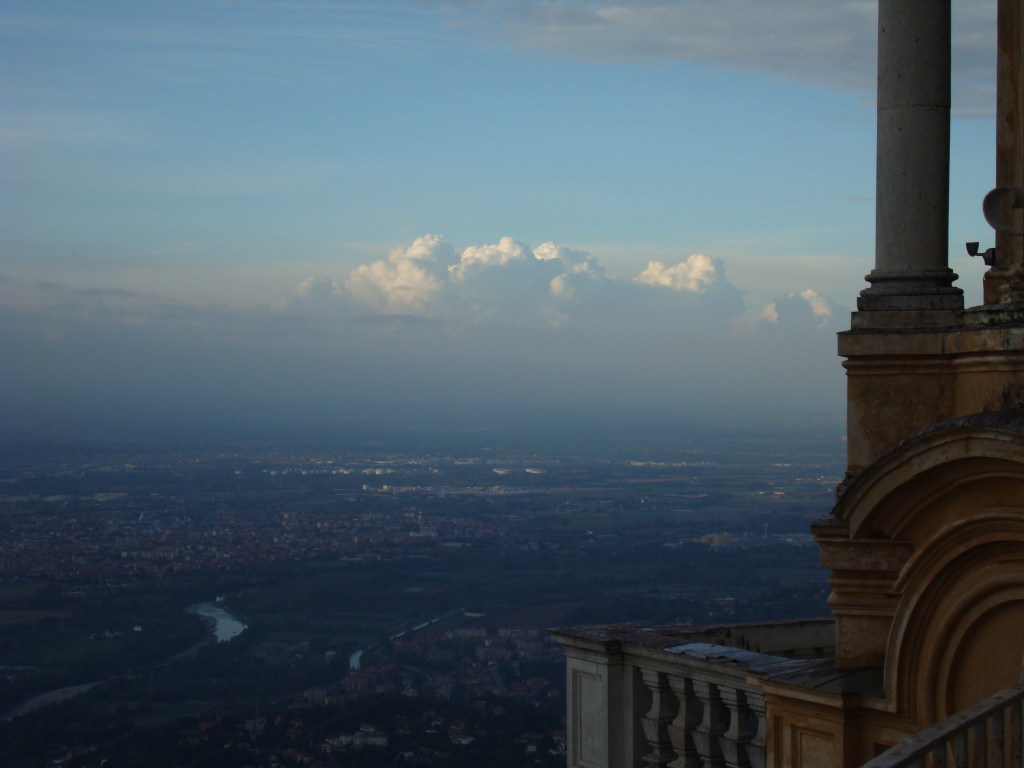 So it was back to Rome very early this morning.  Turin, the next time I see you, methinks you will be covered in snow.