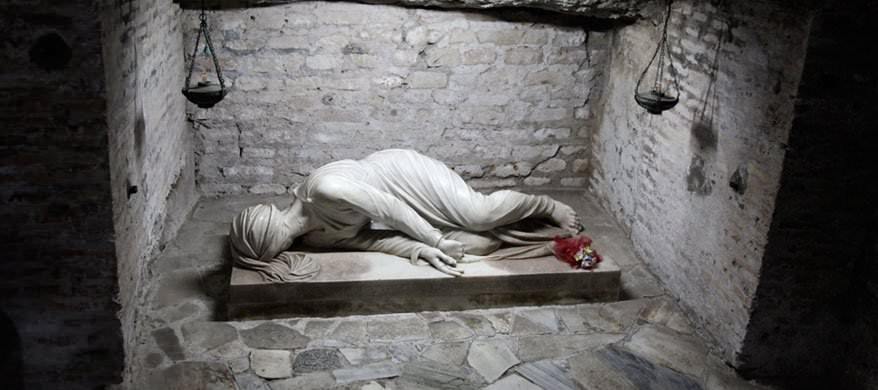 Folks, just because I live in Rome, doesn't mean I don't need a guide sometimes. Especially when dealing with all the twisting and turning tunnels that are under the sun-baked cobblestones we all are usually walking on. There's a lot to see under there, and I'm not talking about the metro station under Termini. There are miles of crypts where the earliest Christians were buried in cubby holes one on top of the other. There are crypts lined with macabre sculptures made from whole and parts of the skeletons of long dead monks- rib cage chandeliers, pelvis sconces, walls of skulls. And then there's my favorite of the lot – a medieval basilica on top of an early Christian basilica on top of a pagan temple on top of private homes as old as Christ himself.But if you've only got a few days in Rome, good luck seeing them all. They're so spread out you think you have to go from one end of the Empire to the other. Unless you get yourself on a tour and let them take you from place to place, all in just under four hours!
That's why my friend Lauren and I decided to take the Crypts and Catacombs Tour with City Wonders.
It's super easy. You just reserve and then show up in the middle of Piazza Barberini (near the Trevi Fountain) and then they drive you to three stops:
1) The Famous Catacombs in Rome. It had been more than ten years since I'd been there!!! Why? Because it is a major pain to get there. It's out in the sticks with no public transportation and way too far for me to go on my scooter. You really do need a tour guide for this. They won't even let you down without one. Try it, and you may get stuck down there for life… or longer!
Honestly the spookiness and dark beauty of this maze of ancient mausolea makes you understand a little bit about what it meant to for an entire population (Christians) to be hunted and prosecuted by a maniacal emperor (Nero et al.). As much as the Colosseum, you've got to see the catacombs in order to really get a grasp of how ancient this place is.
2) The Basilica of San Clemente. I've got a real soft spot for this place because I went there, on recommendation, on the first day in my life that I set foot in Rome back in 1998. It's possibly my #1 most frequently suggested thing to see in Rome. Walk into a basilica from the middle ages, complete an with enormous gold mosaic of Jesus and apostles looming over you like a sun, and beneath your feet, colorful marble floors. One day in the 19th century, a priest was looking down at those floors and thought he heard water running. He dug, and dug some more, and it turned out that there was an even more ancient basilica underneath that one, built in the early centuries of Christianity and with frescos and archways still visible in a gigantic time capsule.
But that's not all!! Underneath that, another temple, pagan this time, with a large room for animal sacrifice and paintings you can still see. Think about the fact that people were hanging out in there in their togas speaking Latin and try not to feel giddy. And then the best part – even below that, apartment-style dwellings of everyday ancient Roman people. Moms and dads and kids ate, slept, and laughed there (using the running water that you can still see coming through the rooms) and talked about things like what a great holiday destination Pompeii is and how Doric columns were so old-fashioned. You can just see people there. You're walking through like a couple on House Hunters International. "This would be great for entertaining." "The bedrooms are a good size." "A little dark maybe." I am obsessed with this place. Make sure to go.
Although there are some informational signs around, it is much better to go with a guide otherwise you will simply not know what's what, and you'll be like "did we see this chamber already?"
2) The Capuchin Crypt AKA Bone Chapel. Here you speed through a museum dedicated to the history and culture of Capuchin monks. (Fun fact – cappuccino is so-named because it's a dark coffee topped with a white cap. Just like a capuchin monk with their brown cloaks and shaved heads).
Then you get to what you came for. A series of rooms built by an unknown monk (or more), completely covered with perfectly arranged bones of FOUR THOUSAND skeletons of their monk colleagues. It's incredible, it's impressive, it is moving. The point, it is explained, was not to shock, but to make you remember (as the sign in the first room reminds you), "What you are now, we used to be. What we are now, you will be." Did you get a chill?
Each of these alone is worth a few hours, but let's be honest. You don't have that kind of time. I don't have that kind of time. This tour takes you to all three efficiently and the best part is – you get a guide to explain to you what the heck you're looking at. Our guide, Rebecca, was sweet as a peach and really knew her stuff (and I'm always skeptical).
So I can really recommend this tour if you are on time constraints and don't have a private helicopter to take you to the catacombs. You will learn a lot and freak out your kids. Perfect vacation activity.
To book? Go here.
********
If you like silliness or Italy or both, or miss my Random English posts, consider liking my Facebook page for daily funnies! You can also follow me on Instagram and Twitter. And why not get this blog in your email? Use the handy link below.