I've travelled a lot for work. To places like Waco, Hillsboro, Fort Worth, and Ector, Texas. A couple of times I even got to go to Corpus Christi and Houston for depositions. My McDonald's receipts were promptly reimbursed, and you know what? Even going to places like that is fun for me. Even getting up at 4 a.m., putting on a suit, pouring a cascade of coffee into a metal thermos and firing up the Chevy in the dark, the deserted streets of Dallas illuminated only by the famous Texas stars (you'll thank me if you click on that link) and my own GPS, is fun for me.
Now I'm still a Texas attorney who happens to live in Italy, and recently I was sent on a familiar assignment in an unfamiliar land. I was asked to attend two depositions (a week apart) for a lawsuit pending in the States involving my old friend, Insurance Defense. It was to take place in the deepest, darkest, most mysterious region of Italy: Puglia. The heel of the boot. This is Puglia:
One of my more nerdy pursuits is to visit all 50 U.S. states and all 20 Italian regions. Puglia would be my 13th. I didn't know much about it except that it supposed to have nice beaches, good food, and shady characters like this guy and his father (see paragraph beginning with "After a few hours of fun and peanuts") who have owed me a lot of money for 10 years.
So I arrived at the Bari train station with the address of the Hilton Garden Inn where the deposition was going to take place. I was going to check in, attend an afternoon/evening deposition, have dinner, sleep, and take a morning train back to Rome.
If you're going to Bari for any reason other than work, I cannot recommend the Hilton Garden Inn. If you're going for work and need a conference room, it's great. The website should really not represent that the hotel is in the city center; in Texas someone would sue over such outrageous deceptive trade practices.  Instead, it is out in the suburbs, with almost nowhere to eat nearby, but the room was luxuriously comfortable and the shower was modern. After months of washing myself in a shower the size of a Superman phone booth, this Hilton double shower with marble walls and multi-speed shower head felt like stepping into a spa at the Ritz.
The deposition came and went. It was interesting. I can't comment on it much, but it wouldn't be a deposition in Italy without multiple technological breakdowns and people getting upset over a variety of perceived signs of disrespect. It wasn't over until about 10 p.m., and I was about to start eating my hair.  The concierge receptionist told me about a pizzeria down the street, and I walked there, feeling infinitely safer than I would have in most American cities.
The pizzeria was Pizzeria Giampa' and I got a table for one. I would really like for everyone to think I'm some gutsy southern broad who glides into restaurants alone without a second thought, but I actually feel quite self-conscious and awkward dining alone in restaurants. And I didn't even have a book! But I kind of thought, whatever, this pizza is my date tonight.
Y'ALL. I take back what I said. Stay at the Hilton just so you can eat at Pizzeria Giampa'. The menu was like a book. A holy book of pizzas. I got a salad, too, but who cares. The pizza was paper thin, the mozzarella, sauce, and dough melted into one amalgamated thing, and I couldn't tell where one ended and the next began. I also had a glass of wine. All I remember is that it was strong.
I walked back to the hotel, called the clients in Chicago, took another shower, and slept in the biggest bed I had seen in months. The next morning, it was a cab and a train back to Rome.
About five days later, I was back in Bari. This time, the deposition was to be held in the Hotel Moderno in the city center. I was not going to stay there, though. It didn't get great reviews but more importantly, I read that the rooms did not have WiFi (unacceptable). So I booked myself a room at the Hotel Oriente nearby. I think I had read that this was supposed to be one of the nicest hotels there.
I arrived at the train station, and like a total nerd I proceeded to walk to the Hotel Oriente with my nose in a map. A map I had printed from the internet. The lobby of the Oriente is… bright. The concierges  receptionists were very nice and helpful, and my room was lovely with yet another stellar shower experience. But there was no WiFi in the room despite the hotel's bold representation on its website. Now I was ready to file my own Deceptive Trade Practices Act claim.
Whatever, so in my freshly pressed black skirt suit, briefcase, and four-inch heels, I walked the mile or so to the Hotel Moderno for the second deposition. On my way there, I was standing at a crosswalk waiting for the green light when I realized I was surrounded by a group of very tiny people. Then I realized that these people were full-grown adults. Then, I realized that, at a barefoot 5'10", I had actually been towering over everyone I came into contact with. Standing at that intersection in the middle of these petite Pugliesi, I suddenly realized how Kareem Abdul Jabbar must feel in his every day life.
The second deposition came and went. Whatever, work, blah blah blah. (Joking aside, I freaking love attending depositions.)  I walked back to the Oriente and changed, and then went out ALONE for dinner, to Pizzeria e Osteria Vassallo – because it was around the corner.
GAH it was good. A bruschetta, a pizza, and wine. Seriously, the pizza in Bari gives the pizza in Naples something to sweat about. Also, I left my credit card on the table after dinner, and the waiter chased me down the sidewalk halfway to my hotel to give it back to me.
I went to bed that night thinking that, apart from the food, Bari was pretty lame. I had seen nothing but a gross train station, nondescript electronics stores, and traffic jams. I hadn't seen any charming sidewalk cafes or grand palazzos. I knew I had a couple of hours the next day between breakfast (the breakfast at Hotel Oriente was AWESOME) and my 12:30 train, so I figured I'd walk down to the waterfront and have a coffee.
So the next morning, beautiful Bari was revealed to me. I walked down the street from my hotel, straight, turned left, and literally right around the corner I saw the Mediterranean Sea, fishing boats, and the old crumbling buildings that make life in Italy worth living. I also saw an extraordinary number of people… not working. At every turn, there were people just kind of sitting around. At 11:00 a.m. on a Thursday. Young, able-bodied people just making out, talking, playing cards even, and I thought to myself: "Is the American girl the only one working in Bari today?"
Judge for yourself:
And also, Beautiful Bari:
And then, the one really specific thing you must see in Bari. The Basilica of San Nicola.  Oh my gosh, you guys, that's SANTA CLAUS! My trivia- and Christmas-loving self had no idea that St. Nick was buried in a basilica in Bari. But he is! And they've built this great big stone church around it, like a giant white rock jutting out of the blue sea.
San Nicola is holy both for Catholics and Russian Orthodox Christians, and Cyrillic writings were carved all over the place. Down in the crypt of the church, about twenty Orthodox believers were knelt in prayer, speaking softly in Russian while I shuffled around in jeans and sneakers, taking pictures. All of their heads were covered, and I thought for a second, "Should my head be covered? Is this like when I didn't know I had to put on gloves to handle the produce in the grocery store and as soon as I touched a melon an angry mob of Italian supermarket workers descended upon me?"  For a moment I actually considered covering my head with the only thing I had – a printed Google map – but then my gnat-like attention span moved on to something else.
There was some kind of stone in there – I can't remember if it even had a shape – that was a deep purple. Maybe it was a relic of some sort (probably). It was behind bars, but one could reach through and touch it and there was some sort instruction about how one should touch it and make a wish and it would come true. Others had thrown coins in there, or little notes, or pictures of loved ones.  I was superstitious enough to reach in, touch it, close my eyes, and make a wish, but I'm not too superstitious to tell you what I wished for: I wished for a successful career.
Anyway, the Basilica is gorgeous and here are some pictures of it: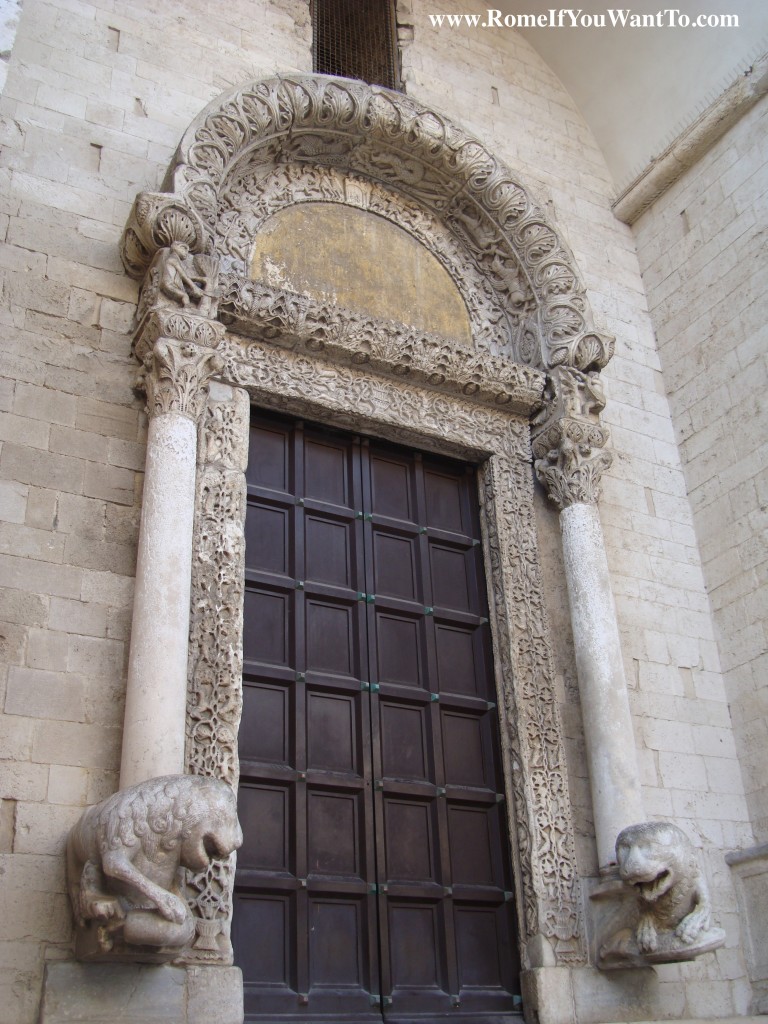 On my walk back to the train station I saw one more guy not working. This guy:
And those were my four days and two nights in Bari. My takeaway is that the food is excellent and there is about 2 hours' worth of things to behold along the oceanfront.  Probably not worth a special trip there from Rome, but might be a halfway decent stop on a cruise.
Yet, the day after tomorrow I will be back… for an entirely different sort of experience….